Posted by Stephanie on May 16th 2022
I'm often asked why my body butter works so well compared to other whipped body butters out there. While there are many answers, the main reason is because Laguna Lily body butters all start with a minimum of 78% raw unrefined shea butter...
What is Shea Butter you ask?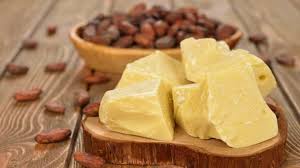 Common Name: Shea Butter; Karitie Butter
Origin: Vitellaria paradoxa (formerly known as Butyrospermum parkii) tree is found in the dry, arid Sub Saharan deserts of Africa (roughly 21 countries in Africa have proper growing climate). The tree produces a fruit that resembles green plums with a round elongated shape. In the center is a large smooth brown nut that yeids the magical yellow butter.
What is in Shea Butter?
Triglycerides – the fatty part of the shea nut that nourishes and conditions your skin
Linoelic, palmitic, arachidic, stearic and oleic fatty acids (primarily the latter)–these acids that balance the oils on your skin.
Vitamins A, E & F – all antioxidant vitamins that promote circulation and healthy skin growth.
Cetyl esters – the waxy part of the nut that conditions as well as locking in moisture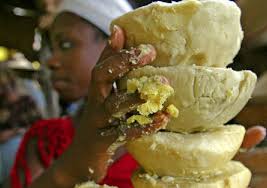 Production:
Every spring the nuts from the Vitellaria paradoxa tree fall to the ground. They are then handpicked, sorted, washed, dried, peeled and the flesh is ground down and roasted. Through this process the shea butter gets its characteristic smoky odor. After roasting, the pulp is boiled, this allows the fat or butter to rise to the top.
Yellow or White Shea Butter, Which is Best?
The process mentioned above produces yellow colored butter. Because it is unrefined, it will have its characteristic nutty scent and it doesn't lose any of the vitamins, fatty acids and nutritional content. The consistency is thick and chunky and can be a little crumbly when used on its own.
White shea butter on the other hand is refined. It is extracted using high levels of heat, thus losing the majority of it beneficial properties, like Vitamin A & E. Hexane and other chemical solvents are sometimes used to speed up the process. Others chemicals are used to remove the smell and color…since we don't like chemicals around here…we don't use refined ingredients in any of our products.
So why is shea butter so great for your skin?
You need three factors for a great moisturizer:
Humectants - ingredients that attract and retain moisture
Occlusives - ingredients to create a barrier to prevent water loss
Emollients - ingredients that smooth skin by filling in the cracks between the cells.
Shea butter has all of those properties and more...
What's in it?
Vitamin A - an antioxidant also known as retinol which has been shown in studies to reverse the signs of natural or chronological aging (intrinsic) and environmentally induced (extrinsic) photoaging. The retinol increases the production of collagen, Vitamin A not only improving the skins appearance but is an important means of protecting skin as it becomes more fragile with age. When combined with a quality skin care cleansing regimen it can also help to remove keratin plugs, one of the chief causes of acne papules and blackheads.
Vitamin E - speeds cell regeneration, can be used to treat scarring, wrinkles and acne. It has also been known to be helpful in treating sunburn and protecting the skin against the effects of chemicals used for cancer therapies.
Vitamin F - a linoleic acid, which is an omega-6 essential fatty acid (EFA). It is known to have anti-inflammatory, moisturizing, healing and acne fighting properties. EFAs can also help facilitate the penetration of other active ingredients such as antioxidants, because of their ability to permeate the skin barrier.
Vitamin K - an antioxidant that can be used to remove spider veins, bruises, skars, stretch marks and burns. It is often used after surgery to speed up skin healing and reduce bruising and swelling as well as improvind skin elasticity and reducing dark circles under the eyes.
Skin Benefits:
Safe for all skin types: Although it is a tree nut, it is very low in the proteins that can trigger allergies. It does not contain chemical irritants known to dry out skin and it doesn't clog pores.
Ultra-Moisturizing: These benefits are linked to the fatty acid content, including linoleic, oleic, stearic and palmitic acids. Shea is rapidly absorbed into the skin and acts as a "refatting" agent, restoring lipids and rapidly creating moisture. It restores the barrier between your skin and the outside environment, from sun to snow, holding moisture in and reducing your risk of dryness.
Won't make skin oily: She contains high levels of linoleic acid and oleic acid, luckily these two acids balance each other. This means that it is very easy for your skin to fully absorb and won't make you look oily afterwards.
Anti-inflammatory: Plant esters contained in shea butter have been found to have anti-inflammatory properties. shea butter triggers cytokines and other inflammatory cells when applied and slows their production. It can minimize irritation caused by the environment and inflammatory skin conditions, such as eczema.
Antioxidant: Shea butter has high levels of vitamins A and E, both powerful antioxidants. Antioxidants are anti-aging agents that protect your skin from free radicals that can lead to premature aging and dull-looking skin.
Antibacterial: Although more research is needed, some speculate that topical application may decrease the amount of acne-causing bacteria on the skin.
Antifungal: While shea butter may not kill every kind of fungal infection, it is known to kill the spores of the fungi that causes ringworm and athlete's foot.
May Prevent Acne: Rich in fatty acids, this unique composition helps clear your skin of excess oil (sebum). It also restores moisture and locks it into your epidermis, so your skin doesn't feel "stripped of oil. The result is a restoration of the natural balance of oils in your skin – which may help stop acne before it starts.
Boosts Collagen Production: Triterpenes, a naturally occurring compound thought to deactivate collagen fiber destruction, found in shea butter can minimize the appearance of fine lines and result in plumper skin.
Promotes Cell Regeneration: The moisturizing and antioxidant properties of shea butter work together to help generate healthy new skin cells.
May help reduce the appearance of stretch marks and scarring: It is though that shea butter stops keloid fibroblasts – scar tissue – from reproducing while encouraging the healthy cell growth to take their place. This helps the skin to heal minimizing the appearance of stretch marks and scarring.
May help reduce appearance of fine lines and wrinkles: Shea butter boosts collagen production and promoting new cell generation, as well as reduce photoaging – the wrinkles and fine lines caused by environmental stress and aging.
Added Sun Protection: Shea butter contains cinnamic acid and has an estimated SPF of 3-6. Not much but with daily use, it will offer a little bit of built-in protection.
May soothe dermatitis, psoriasis and eczema: The anti-inflammatory properties in shea help soothe skin and relieve itching. It absorbs quickly and may prove beneficial for inflammatory skin conditions, Research (1) even suggests that shea butter works as well as medicated creams in treating eczema.
It may soothe sunburn and other skin burns: The anti-inflammatory components in shea butter may reduce redness and swelling caused by superficial (first-degree) skin burns. The fatty acid components may also assist in the healing process with shea butters moisture retaining abilities. So slather it on after a day at the beach.
There are also numerous benefits to eating shea butter. Shea butter may reduce inflammation, prevent acne, lower cholesterol, reduce muscle soreness and maintain healthy skin when used I cooking. However, more definitive research is needed.
At Laguna Lily we use a minimum of 78% raw unrefined shea butter in our body butters. That way you get all of the amazing shea butter benefits along with the added benefit of other butters and essential oils.
Allergies:
Shea buter is generally safe but people with severe tree nut allergies & latex allergies should consultant their physician prior to use.
How to use Shea Butter:
Butter can be used as a stand-alone moisturizer: using a small amount, melt it between your fingers (it will melt easily to body temperature) and apply in a massaging motion until it is well-absorbed into your skin. The same small amount can be used on thick and curly hair that needs taming and extra moisture. Remember, a little goes a long way as shea butter is ultra-moisturizing. Do not use too much or it will weigh down your hair.
Shea butter will melt at 78deg so be sure to keep in air tight container in cool dark place to preserve consistency. If you live in a very hot area you can store in your refrigerator, it will just take a bit more time to melt when time to use.
You must be careful with shea butter on fabrics, like any other butter or oil it can stain. To avoid this, be careful to only use a small amount so it soaks into your skin instead of your clothing or sheets. I will be sure to do a blog all about how to get shea butter out of fabrics.
*DISCLAIMER: These statements have not been evaluated by the FDA and are not intended to diagnose, treat, cure or prevent any disease.
(1) Pubmed.ncbi.nim.nih.gov; Patient acceptability, efficacy, and skin biophysiology of a cream and cleanser containing lipid complex with shea butter extract versus a ceramide product for eczema; K.L Hon et al, Hong Kong Med J. 2015 Oct. https://pubmed.ncbi.nlm.nih.gov/22191005/